HALLOWEEN SCARY STORIES #3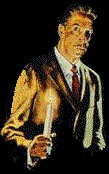 Turn down the lights, get comfy, and get ready to be scared!!!
The Legend of Sleepy Hollow by Washington Irving
Phantom of the Opera by Gaston Leroux
The Red House Mystery by A. A. Milne
The Statement of Randolph Carter by H. P. Lovecraft
Treasure Island by Robert Louis Stevenson
The Underground City by Jules Verne
The Vanished Messenger by E. Phillips Oppenheim
The Monster Men by Edgar Rice Burroughs
The Mysterious Island by Jules Verne
The Pit and the Pendulum by Edgar Allan Poe
The Princess of Amen-Ra Author Unknown
The Tell-Tale Heart by Edgar Allan Poe
The House of the Past by Algernon Blackwood
The Haunted Palace by Edgar Allan Poe
The Hallowe'en Tree by Ray Bradbury
BACK to my homepage!