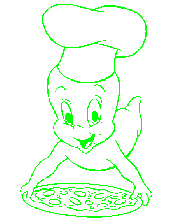 The Big Spider Web



1 1/2 cups all-purpose flour
1/2 teaspoon baking soda
3/4 cup creamy peanut butter
1/2 cup margarine, softened
1 1/4 cups firmly packed light brown sugar
2 teaspoons vanilla extract
1 egg
3/4 cup milk chocolate chips, divided
1/2 cup chopped roasted peanuts
1 cup marshmallow fluff
Assorted candies and gummy creatures

Combine flour and baking soda; set aside.

In large bowl, with electric mixer at medium
speed, beat peanut butter, margarine, sugar and
vanilla until creamy. Beat in egg until light and
fluffy; gradually blend in flour mixture. Stir in
1/2 cup chocolate chips and chopped peanuts.

Press dough into greased 14-inch pizza pan.
Bake at 350 degrees for 20 to 25 minutes or
until done. Cool completely in pan on wire rack.
Frost top of cookie with marshmallow fluff to
within 1 inch of edge.

Melt remaining chocolate chips, drizzle
chocolate in circular pattern over marshmallow.
Draw knife through marshmallow topping to
create web effect. Decorate with assorted
candies and gummy creatures.