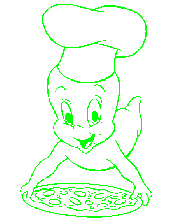 Pumpkin Pudding Cups

This is a very simple, yet special Halloween dessert!




1 container (8 oz.) Cool Whip
2 lg. pkg. Jell-O chocolate pudding mix
12 miniature pumpkins
green food coloring



Prepare Jell-O pudding according to package directions.
Chill until firm. Cut the tops off of the pumpkins and remove
most of the interior with a sharp knife, then scrape with a spoon
to even out the inside. Draw faces with black permanent marker on the pumpkins.
(If your pumpkins are a little large, you might need to prepare another
package of pudding.) Scoop pudding into the pumpkins until full.
Mix the Cool Whip with the green food coloring and top pumpkins with a spoonful.

Keep refridgerated until ready to serve. Makes 12 pumpkin pudding cups!