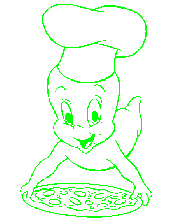 Jack O'Lantern Meat Pie



1 pound lean ground beef
1 cup onion, chopped
1/4 cup grated cheddar cheese
1 can (8 ounces) tomato sauce
1 teaspoon salt
1 teaspoon oregano
Pastry for 2 double-crust pies
Milk



Lightly brown beef with onions in skillet.
Pour off excess fat.
Stir in tomato sauce, salt, and oregano.
Simmer 10 minutes, stirring occasionally.
On lightly floured surface, roll out half of pastry 1/8-inch thick,
cut into 4-inch circles and place on ungreased baking sheets.
Roll out remaining pastry and cut into 4-inch circles.
With a sharp knife cut out Jack O'Lantern faces on half of the circles.
Place 2 tablespoons meat mixture on each plain pastry circle,
brush edges lightly with water.
Carefully place face circles over filling, seal edges with fork.
Brush lightly with milk (to brown nicely).
Bake at 425° for 12-15 minutes. Serve hot or cold.