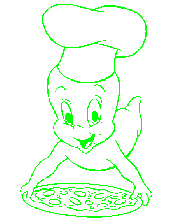 Hot Cocoa with Marshmallow Spooks



6 to 8 large marshmallows
5 T unsweetened Dutch-process cocoa
3 T sugar
1/3 cup water
4 cups milk
1 cup half-n-half



Place one marshmallow horizontally on a work surface.
Using a rolling pin or soup can, flatten the marshmallow by
rolling it back and forth over it. Using Halloween-themed
mini cookie cutters, cut into desired shapes.


In a saucepan over medium heat, combine the cocoa, sugar, and the water.
Bring slowly to a boil, stirring, until the sugar and cocoa dissolve,
about 2 minutes. Add the milk and the half-n-half and continue to cook,
stirring, until bubbles appear along the edges of the pan, about 5 minutes;
do not allow to boil. Pour into mugs and garnish with the marshmallow spooks.
Serve immediately while the spooks hold their shape.