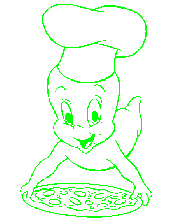 Bewitching Cocoa Bites



This is a fun activity for kids.



5 cups crisp rice cereal
6 tablespoons butter or margerine
3 cups miniature marshmallows or 30 large marshmallows
1 2/3 cups (10oz) Peanut butter chips
1/3 cup cocoa
1/3 cup light corn syrup



1. Measure cereal; set aside. In a large saucepan over low heat,
melt butter. Add marshmallows, peanut butter chips and cocoa.
Cook over low heat, stirring constantly, until marshmallows and
chips are melted. Remove from heat.

2. Stir in corn syrup. Add cereal; stir until well coated.

3. Using hands, shape into 1 1/2 inch balls, stirring mixture
a few times during shaping. Place on a cookie sheet. Cool completely.
Decorate as desired. Store Cocoa Bites in a cool dry place.
Makes about 40 treats.