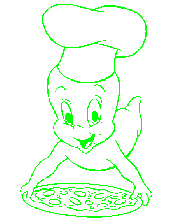 Cheese Fingers



Preheat oven to 400 degrees.
Remove crusts from 3 slices of white bread and discard crusts.
With your hands, break bread into small pieces and drop into
a medium bowl. Add 3/4 cup grated cheddar cheese, 3 tablespoons
grated parmesan cheese and 3 tablespoons milk. Mix well with hands,
kneading the bread into the cheese, until dough will hold the shape
of a ball. Roll heaping teaspoonfuls of mixture into 15 fingers
and arrange on an ungreased cookie sheet. Bake for 10 to 12 minutes
or until fingers begin to turn brown.