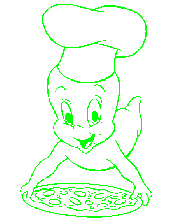 Caterpillar Sandwiches



Preheat oven to 375 degrees. In a small bowl combine
1/4 cup mayonnaise, 2 teaspoons parsley, 2 teaspoons dry mustard,
and 1/4 teaspoon onion powder. Stir well and set aside.
Cut 1 loaf italian bread into 10 slices without cutting all the
way through the loaf. Spread mayonnaise mixture between every other
slice. Fold luncheon meat in half and tuck a slice of cheese in between.
Insert folded meat and cheese into every other slot that has the
mayonnaise mixture in it. Wrap the loaf in foil and bake for 25 minutes.
Use thin sliced celery stalks for antenna. Use olive slices with pimento
in center on toothpicks for caterpillar eyes. To serve, cut the loaf in
slices at the cuts you didn't fill.